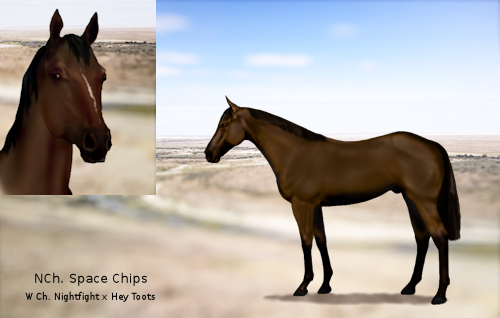 Dark bay stallion, 16.2h
Dirt specialist, steeplechase winner, stakes winner at age 2 to 4, no injuries
By WCh. Nightfight, Chef-de-Race (B/I), sire to NCh. Enyo, ICh. Fightin' The Smoke, NCh. Nightwatchman, NCh. Fight The Twilight, ICh. Devil's Walk, WCh. Sponsored, NCh. Lovers' Duel
Out of Hey Toots, Reine-de-Course (I/C), dam to Ch. Reveille, NCh. Call To War, Ch. Native Rhythm, Ch. Hey Good Lookin'
Nominated for the Breeders' Cup
Live Foal Guarantee
Space Chips is currently 4th Nightfight son at stud, with highest percentage of winners - 54%. His first 2yo's made him a Leading Freshman Sire in 2024. Space Chips was already a stakes winner at that age; won Gr. 1 Futurity Stakes and Gr. 2 Saratoga Special. He also finished 3rd in Gr. 1 Breeders' Cup Juvenile. He ran 16 races as a 2yo.
His first born son Aufeinander won the Rainbow Quest Breeders' Stakes, in which his half brother Hans finished 2nd. Earlier in their 2yo year, Aufeinander finished 3rd in the Gr. 1 Del Mar Futurity, behind Hans. Hans later won Breeders' Cup Juvenile, becoming a millionaire.
Space Chips foals do earn good money at auctions; his filly SpaceFinalFrontier earned $1,001,000 for her breeder Starfish Stables, at their auction. That was quite a bidding war between Littlefield and Generous Bloodstock! Later on, unraced filly Balanga, auctioned by Clicker Lab, went to Starfish Stables for $1,500,500. They won the bid against Generous Bloodstock. Both fillies are stakes winners now.
Space Chips also has a few allowance winners: colts Easy Sun, Space Opera, and fillies Irrtum, Frozen Planet, Peu à Peu, Space Odyssey, Tschüss, Verrückt. Space Opera and Verrückt became stakes winners and champions as 3yo's.
Bookings - stud fee: $10,000
02 Feb 1 … Ch. Vanished Valentina – Clicker Lab
02 Feb 1 … Ch. On The Avenue - Clicker Lab
02 Feb 2 … Ch. Glamorous Fog – Clicker Lab
02 Feb 2 … Ch. Opulent - Clicker Lab
03 Mar 1 … Ch. Ophelia – Clicker Lab
03 Mar 1 … Mañanita - Gotapa Racing
03 Mar 2 … Ch. Filipendulous - Clicker Lab
03 Mar 2 … Ch. Smaug - Generous Bloodstock
03 Mar 3 … Ch. Luna Llena - Generous Bloodstock
03 Mar 3 … DontBreakMyHeart - Sakura Springs
04 Apr 1 … Ch. Chasing Gold - Sakura Springs
04 Apr 1 … - Tall Oaks Estate
04 Apr 2 … - Starfish Stables
04 Apr 2 … - Starfish Stables
05 May 1 … Ch. Portofino – Clicker Lab
05 May 1 … Ch. Yukon Gold - Clicker Lab
05 May 2 … NCh. King of Gondor - Mayfair
05 May 2 … Ch. Summer Romance - Clicker Lab
06 June 1 … Ch. Razamatazz – Clicker Lab
06 June 1 … Ch. Romeo's Girl - Clicker Lab
06 June 2 …GCh. Send Me Flowers - Generous Bloodstock
06 June 2 … Hot Fudge - Desert Wind Farm
07 July 1 … - Tall Oaks Estate
07 July 1 … Ch. A Sweet Melody - Clicker Lab
07 July 2 … DeJanay - Allegro Thoroughbreds
07 July 2 … Hidden Oak Farm
08 Aug 1 … British Pounds - Generous Bloodstock
08 Aug 1 … One Fun Cat - Allegro Thoroughbreds
08 Aug 2 … Hidden Oak Farm
08 Aug 2 …