Description of Issue I have four horses that I want to consign to my Stable auction next month but am unable to consign them as they're not showing up on the consignment page drop down.
Steps to Reproduce
Go to Horses For Sale Page, Auction section
Click 'Consign'
Click 'Consign' on the Generous Bloodstock Auction
Select horse to consign from the list: Wizardry, Sotto Voce, Poetic Justice & Wandering Stamp are not on the list for selection (all are racehorses).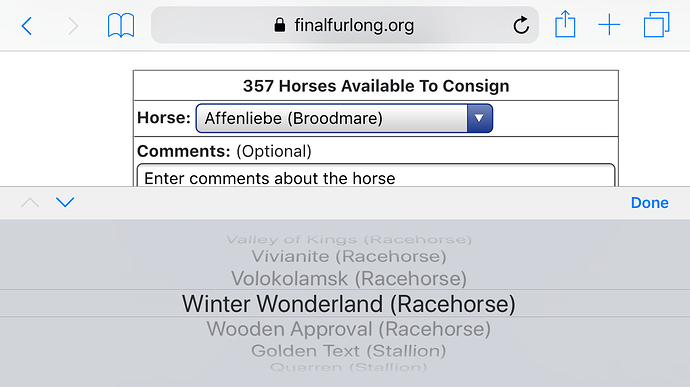 Example shows that neither Wizardry nor Wandering Stamp are on the list for selection.
Additional information
If I go to Wizardry and Sotto Voce's individual pages, I could set them up on the sales pages without any obvious problems (the other two both show they can be sold in two days so I assume they should be eligible for the auction as it starts in 3 weeks).
Additional context or information on how urgent this issue is, or any other information you feel would help.