[color=maroon][font=Verdana]Well, not really. Sounded good however; and I'm all about adding the headlines that may or may not have absolutely anything at all to do with what I'm hiding within them.
With that strange introductory paragraph…onto the "about me" portion…
For starters… Game name obviously, Cydielle. Real name? Sasha. Nicknames?? Sash, Sashi, midget, hey you,etc etc. I'm 19, all of 5FT, weigh nothing, which makes it fun for the fuzzy lumpkins to toss me around like a ragdoll at times.
So… I'm into writing novel-length anythings. So, I've decided to do a novel-length survey of myself, in hopes of not being so…long-winded.
Family- parents…divorced. Both remarried. Hates both steps.
Siblings- 2 step bros, 3 half bros, 4 half sis'
Pets-[/b] 7 dogs, 1 cat, 11 ponies & 12 racehorses I "consider" to be mine.
[b]Personality- eh. enthusiastic about everything I do. I'm very reflective about everything, past/present/future. I drive myself up the wall at times. When I'm quiet it's taken as being sullen, unfortunately. But, that gives an idea of how enthusiastic I am. Sarcastic/dry/quirky humor rolled into one.
Job- assistant trainer/barn manager, I've trained horses/ponies as/for lessonsshort & long distance trail rides/barrels/poles/gymkhana/hunters Currently, I've started all of the racehorse 1/2/3 yr olds, and gallop them in the mornings, as well as do regular barnwork. I've taken on a few training rides for some other clients as well.
Musical Taste- anything really. Mostly rock/heavy metal, but country, hip hop, r&b, pop, celtic, oldies
Fashion Sense- HA. try…none.well, I'm at the barn 7 days a wekk…so tank top, jeans, boots. Sometimes my breeches/tall boots If I'm feeking snarky. Not a skirt person, but love dresses. My style is kinda all over; loud, understated, colorful, not colorful. Long as it looks good on me, I love it.
well… enough with the stupid survey thing already. I'll get some pics out.

Jumping my favorite pony; she was the first pony I ever trained; and unfortunately, the first pony I ever learned to ride on,which made for some INTERESTING moments. Let's just say…she reared/bolted/kicked out, was terrified if she even saw barrel/poles pattern. She's now competing in barrels/poles with a 8 yr old, is ridden by beginners, and does everything from swimming in the ocean, to trailrides at the barn, to 128 mile trailrides.

My 2nd favorite racehorse filly in the barn; Cruisin Countess, aka Momma Drama. Currently being ridden by a fellow excercise rider; I snapped the pic.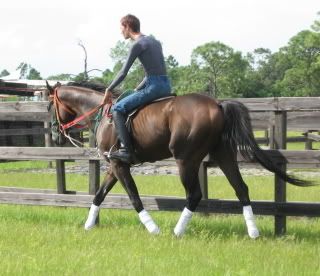 My current trainer; who's done everything on the planet. Trained with George Morris/Margie Goldstein Engle/Chris Kappler/Guenter Siedel , to name some. Been to NBHA World…Went to Medal Finals…Rode his first Grand Prix when he was 14…Rode up to Intermediare & decided he really didn't like Dressage…been to multiple world shows in Western Pleasure/Reining. All insanity. Yes, his eq is bad; he knows it. He also broke his back when he was 14. Told he couldn't ride; he still does. Hurts like hell for him to sit up & look "pretty". But he's d**n well effective. Wehter or not this photos shows it. Then again…the horse he's on was still in race training; had just been galloped that same day. This was his 4th ride on him.

Myself riding my 1st favorite filly in the barn; she's 6. I not only ride her in my lessons, but I take her out & gallop her to keep my position solid. This was probably…eh…4 months ago. I'd just gotten done taking her out to the track; this was a few minutes into my lesson. Yes. My position looks disgusting. Excercise Riding, and riding in an excercise saddle ( which is what I ride my lessons in ) do that to you.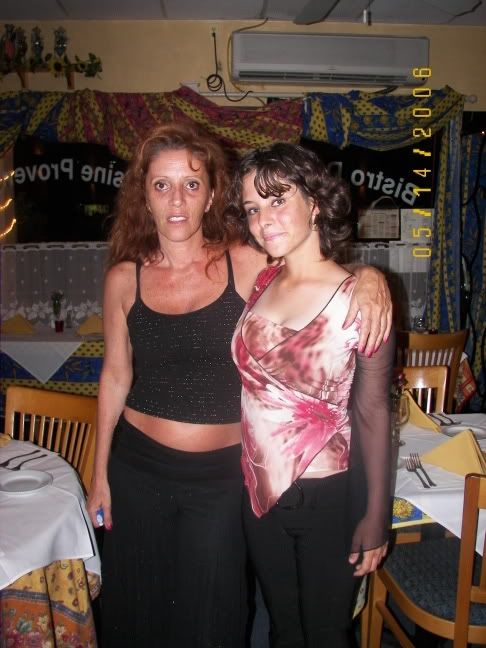 My mother & I, mother's day '06.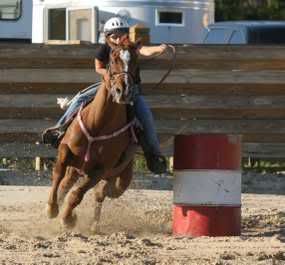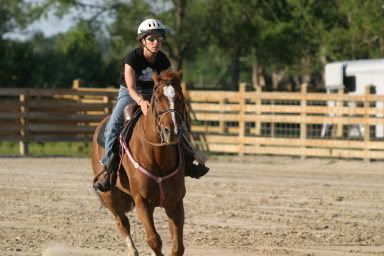 Running barrels on my old instructor's horse; Sunni. Picked up 3rd place end-of-the-year on him; my first yr on him.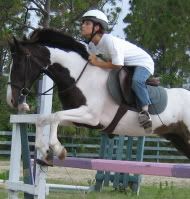 A pony I was retraining…yes, my jumping position SUCKS. I'm in the process of strengthening my position up. I can definetly say… I could get them OVER a fence…but that doesn't mean I in any way actually was secure. Anyways, he went on to become a polo pony, oddly enough.[/font]