There was a strange outcome in the bidding for Ash and Quill, https://www.finalfurlong.org/viewhorse.php?horse=45001.
I had placed a Maximum bid of $10,000 very early this morning, a few minutes after the Auction started. I checked the auction at various times during the day and I was still the high bidder. The last time I checked, it said that the Time Left was 0d 4h 54m 35s (this would have been about 2 o'clock this afternoon).
When I checked the Auction just now, it says that Ash and Quill was won by Allegro Thoroughbreds for $10,000. I looked at the Bidding Summary and it shows the progression of the bids for this colt but has all the times showing as between 12:06:35am and 12:06:41am. It also shows that Allegro had bid $9,500 and $10,000, which also doesn't make sense. Surely if they bid $9,500, the next bid should have been my max of $10,000?
Even if the bid amounts are correct, the earliest that Allegro would have been able to outbid me would have been about 2pm today, so the auction for this horse should still be going on.
I have a screen print of my Auction Watch page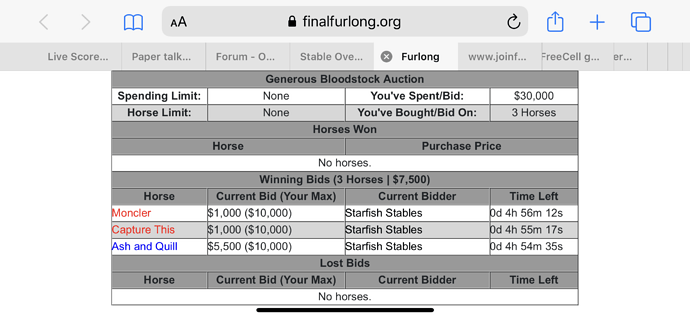 Thanks.