Well…had some busy past few weeks as always.
Spangler's Storm's last race, she came 4th. not bad, but still a step down. Her owner decided to try & breeze her. ALONE, at our farm track. This filly NEVER goes alone. She's lay down with you on her if you try to make her. sigh. in the end, trainer went & jumped on the pony & ended up going around with her anyways. It carried over to that race. She was stuck, stuck ,stuck when the jock went to jog off; pony guy dragging her along. Tried to lay down in the gate. Slammed her shoulder AND lost her RH shoe coming out of the gate. So, considering all of the above…still amazed she placed. We didn't think she'd get into the gate the way she was going.
JV'sMadHatter came 4th in his last race as well; a step up for him. Owners finally decided to suck it up & goto Calder & get him a blinker card. Colt ran phenomenally with them.
My grey filly was supposed to go work this past Tues, but the track closed before she was able to get out. SO, she just went out & jogged a mile today. Went phenomenally as she always does.
Well…onto the recent pictures. A friend of mine, who has her own horse…thought she wanted me job, thinking it was easy. Well, she got to spend the day. And of course, her spending the day meant she wasn't just hanging around twiddling her thumbs. Well, ok, I let her off easy…she helped me clean 4 stalls. Dumped buckets for me. Helped feed in the morning. Held some horses for bathes. Other than that, she got to take pictures. Got some cute shots as well…
Mr. Pinky A.K.A Sprite. by Alajwad out of a Northern Jove mare. Bought him OBS Oct '06. well…JOE bought him. Because he was pissy and wanted to leave. So bought the next horse that came out…without consulting either of myself nor his trainer. This is what we ended up with. a PHENOMENAL droolworthy mover…these pictures don't do him justice. He'll go back to OBS this August; we're confident we'll get a good bid on him.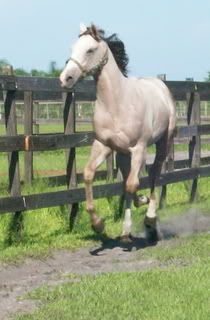 here be Cletis. reg. Country Manager. Mr Fluff man. the "ham". a big attention hog. Amazingly athletic. by Gibson County.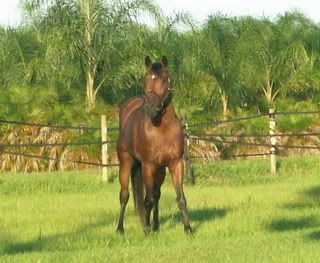 paranoid much, Cletis??
Lexicon Falls. Who needs to be retrained as a barrel horse, or put in a can of alpo. And no, I really DON'T like this horse. He doesn't want to race. Maybe after his…oh… i dont know…15th start, his owner will figure that out.and yes…he's only hit the board once.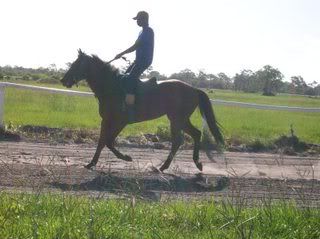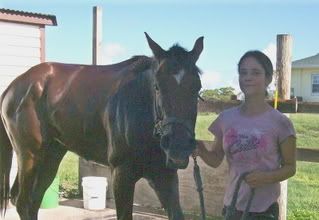 yes…he is a lip chain lover. A rip-your-gums-out lip chain lover.
my grey filly, Bizzy. reg. Validinksy. a ways off from the races. by Stravinksy out of a Valid Appeal mare.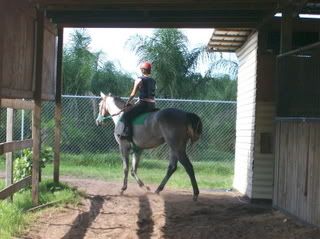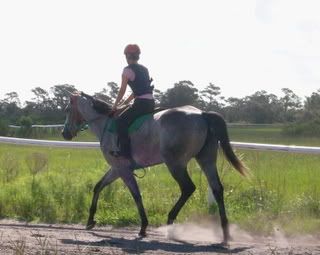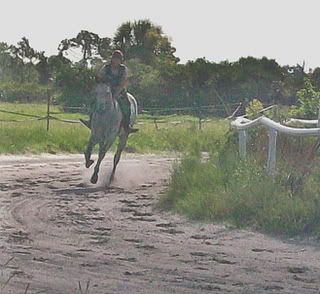 the above pics are of myself on her. Unfortunately…Jen doesn't time shots well at all.both this mare & I look a zillion times better than two out of the three pics show.

This mare has 2-3 inches of overstep at all gaits when we go around. Easily.
Safley's Social. by Safley's Mark. 66 career starts…a total of around 25,000. Yes, she was run into the ground. 6 y/o. Bred to Gibson County. Has been home for about 2 months now.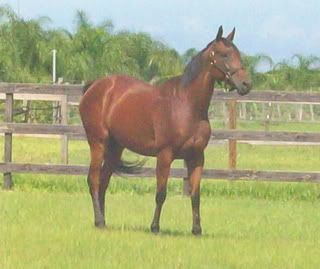 Fiona.reg. Forbidden Halo. by Forbidden Apple out of a Halo mare. Bought OBS Oct 06. Just started back into training today; she hit a huge growth spurt there for awhile. She's HUGE right now, and grows completely even, so was given a huge chunk of time off.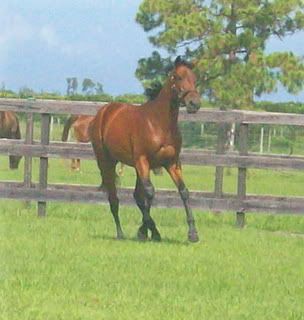 ahh…my Cruisin Countess filly. my Momma Drama. my babygirl. Had some time off, depending on some thermo-scans, we'll make the decision to bring her back into training, or keep her as a broodmare. By Weekend Cruise out of a Wekiva Springs mare.Yes, she is laidback & well-mannered that I don't need a shank on her.