Our other stallion, NCh. Al Mundhir has been retired this August, so next year we'll only have NCh. Space Chips.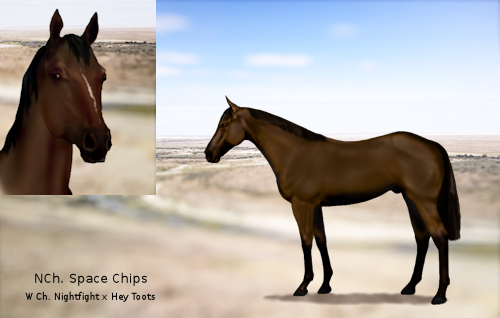 Dark bay stallion, 16.2h
Dirt specialist, steeplechase winner, stakes winner at age 2 to 4, no injuries
By WCh. Nightfight, Chef-de-Race (B/I), sire to ICh. Fightin' The Smoke, NCh. Nightwatchman, NCh. Fight The Twilight, ICh. Devil's Walk, WCh. Sponsored
Out of Hey Toots, Reine-de-Course (I/C), dam to Ch. Reveille, NCh. Call To War, Ch. Native Rhythm, Ch. Hey Good Lookin'
Nominated for the Breeders' Cup
Live Foal Guarantee
His first 2yo's will start racing in 2024. Space Chips was already a stakes winner at that age; won Gr. 1 Futurity Stakes and Gr. 2 Saratoga Special. He also finished 3rd in Gr. 1 Breeders' Cup Juvenile, behind GCh. Fool's Errand and Ch. Don't Trip, who did not qualify for stud. He ran 16 races as a 2yo.
Currently, some of his oldest yearlings have already reached their minimal height: USS Discovery out of GCh. Diamond Prospector (S), bred and owned by RC Bee, is 15.3h. Death of a Star out of Ch. Brightest Light (B), bred and owned by Stillwater Farms, is 16.1h. Our homebred colt Ganz Egal, out of GCh. The Woman In Black, is 15.1h.
Bookings - stud fee: $5,000
02 Feb 1 … Ch. Mauiluv - Clicker Lab
02 Feb 1 … Ch. Crownette - Clicker Lab
02 Feb 2 … NCh. Winter Queen - Clicker Lab
02 Feb 2 … Blue Rabbit - Clicker Lab
03 Mar 1 … Ch. Tipping the Velvet - Clicker Lab
03 Mar 1 … Ch. Ekina - Clicker Lab
03 Mar 2 … Stillwater Farms
03 Mar 2 … Wildwood Flower - Black Storm West
03 Mar 3 … GCh. The Woman In Black - Clicker Lab
03 Mar 3 … Adriatic Swan - Clicker Lab
04 Apr 1 … Stillwater Farms
04 Apr 1 … Cricket Hill
04 Apr 2 … GCh. Wonder Woman - Clicker Lab
04 Apr 2 … Cricket Hill
05 May 1 … Desert Wind Farm
05 May 1 … Tall Oaks Estate - Ch. Tenebreux
05 May 2 … Ch. Sky Heights - Clicker Lab
05 May 2 … Ch. Romeo's Girl - Clicker Lab
06 June 1 … Allegro Thoroughbreds
06 June 1 …
06 June 2 …
06 June 2 …
07 July 1 … Odyssey - Clicker Lab
07 July 1 … Saavik - Ivy Creek Farm
07 July 2 …
07 July 2 …
08 Aug 1 …
08 Aug 1 …
08 Aug 2 …
08 Aug 2 …